Casting Clinic December 16, 2017. The casting clinics was initiated by Pat Damico in 2006 and Dayle Mazzarella setup the program and course for the last 5 years. Several excellent instructors included Dayle Mazzarella, Pat Damico, Leigh West, Steve Parker, Chris O'Byrne, Ken Zadoyko, Louis Bruno, and Tom Gadacz.

New club members Chris and Heaven Tripoli score on the MacDIll Flat. Heaven with her first red on the fly and Chris with a hard-to-catch sheepshead. Good job!

Rick O'Hara with a big jack.
Capt. Pat Damico guided Janet Schmitt to a sheepshead on the fly.

Capt. Rick Grassette guided his clinics to Little Tunny. Club members Rick and Nanette O'Hara above.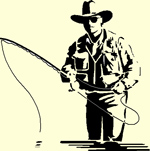 Club Meetings
6:00 pm
01/08/2014
02/05/2014
03/05/2014
04/02/2014
05/07/2014
06/04/2014
07/02/2014
08/06/2014
09/03/2014
10/01/2014
11/05/2014
12/03/2014
Board Meetings